VELOCITY SERIES (SIEMENS PLM SOFTWARE)
Solid Edge Try Solid Edge for Free
What Is Solid Edge?

Solid Edge, a core component of the Velocity Series™ portfolio, is the most complete hybrid 2D/3D CAD system that uses synchronous technology for accelerated design, faster change, and improved imported reuse. With superior part and assembly modeling, drafting, transparent data management and built-in finite element analysis, Solid Edge eases the growing complexity of product design.

For More Details..Re-imagine What's Possible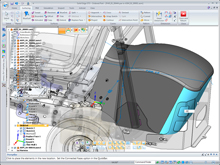 Femap
What is Femap?

As an engineer, you should demand software that is not only cost effective and easy to use, but with the power to model the toughest problem. Femap delivers just that - affordable high performance FEA modeling for the engineering desktop. Femap is recognized as the world's leading CAD-independent Windows-native pre- and post- processor for advanced engineering finite element analysis.

For More Details Click Here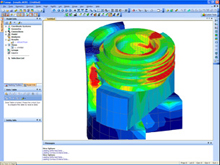 CAM Express
What is CAM Express?

CAM Express is an in-depth, highly flexible system that allows users to maximize the value of their investments, in the latest, most efficient and most capable machine tools. Easy to deploy and easy to learn. CAM Express provides powerful NC Programming with a low total cost of ownership.

For More Details Click Here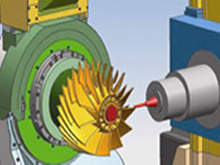 Additional Modules Available for Solid Edge
Simulation
Solid Edge Simulation provides an easy-to-use finite element analysis (FEA) tool capability for performing a fast, accurate, static, modal, buckling and thermal analysis on assemblies, parts or sheet metal models. Digital simulation helps reduce the need for physical prototypes which can help lower development costs and reduce time to market.
Standard Parts
Solid Edge Standard Parts is a powerful parts management system that allows designers to define, store, select and position commonly used parts. The Machinery Library (included in Solid Edge Classic) includes common fasteners and can be used with Fastener Systems. A Pipe Library is also available and includes pipes and fittings and works directly works with the Piping application.
XpresRoute
Solid Edge XpresRoute eases the design of mechanical routed systems. A comprehensive set of industry-specific design tools helps designers quickly route and model piping and tubing in Solid Edge assemblies. Specialized reports for tube manufacturing or pipe cut lengths are also included.
Wire Harness Design
Solid Edge Wire Harness Design assists the creation, routing and organization of wires, cables and bundles. Integrations with eCAD systems automate Wire Harness Design and a full set of tools are available for creation, routing, and reporting.
Mold Tooling / Electro Design
A complete solution for mold design Solid Edge Mold Tooling is available for automating plastic injected mold design. The system has support for single and multiple cavities, injection channels, cooling lines, ejector pins, and much more. A complete library of mold bases and standard components are also included. An Electrode Design package is also available to assist with die design.
Catia Translators
Solid Edge Catia translators are ideal for users who receive Catia data (v4 or v5) from customers or suppliers. The Catia translator is bi-directional supporting data read and write.
Web publisher
Solid Edge Web Publisher makes it easy publish Solid Edge 3D models directly to the web without any web publishing expertise.
Insight XT
Solid Edge Insight is a SharePoint app building on our 10 years of technical leadership and customer success with Insight. It offers dynamic new tools for managing Solid Edge files and related documents using a state-of-the-art visual approach to managing complex data, and simplifies and automates error prone processes.
Copyright © AR TECHNOLOGY All Rights Reserved.
Designed & Developed By : Xposure Infotech